ビルマと日本との間で時々、メールのやりとりをしてる。相手のビルマ人は、ビルマ国内でビルマ語を使うのと全く同じように、話し言葉では「ビルマ」を使うが、書き言葉では「ミャンマー」を使っている。内容はもっぱら、お互いの近況を伝えあう程度。なんら政治的なモノは、全くない。だが、毎日の生活を伝えることはすなわち、政治にかかわることなんだなあと痛感させられる。話題の中心はいつも、この国の将来について悲観するところに行きつく。

>I am also very busy but earns nothing. Myanmar is dark as
>it was in the past. There is no electricity in day and night.
>Businesses are still cool down and no sign of recovery. But
>we are eating, reading, speaking, sleeping in the very dull life.
>We are still alive in very undifferent world without definite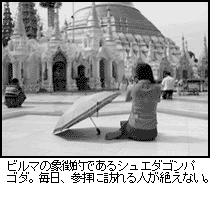 >aim or purpose of living. If it is called a life, I prefer to die.
>Therefore I try my work hard until I cannot move, paralize with
>tirdeness. This is my life.
>I will enter meditation center during Apirl.

私は返答した。 But I think that you are now in the meditation center. When you do read this message, you are out of the center,right? So...welcome back to the REAL world.